Gobo Projectors
We offer a great selection of
the most popular gobo projectors.
Receive a FREE STOCK GOBO of your choice and a FREE CUSTOM GOBO!
Whether you are looking for a low budget option or a nice moving head, find the best projector options to use with our custom gobos. When you buy any of these projector you receive a free stock gobo of your choice and a free custom gobo.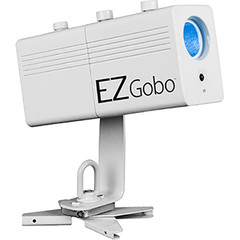 The Chauvet DJ EZgobo is a battery-powered LED gobo projector, that can project a custom image anywhere . Its magnetic base affixes to most metal surfaces, eliminating the need for clamps, and the scissor clip with eye loop easily attaches to drop ceiling supports, for quick setup and cable management. Wireless on/off operation is available with the included IRC-6 remote, and you can easily print your own custom gobos on transparency film.
SHOP NOW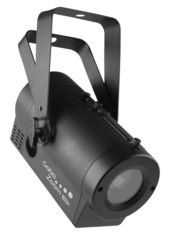 The Chauvet DJ Gobo Zoom USB is a super compact gobo projector with a manual zoom, and wireless connectivity in master/slave and DMX mode, thanks to its embedded D-Fi USB compatibility. Gobo Zoom USB includes 10 wedding-ready gobos. Gobo Zoom USB can be controlled without DMX using the optional IRC-6 remote (sold separately). Gobo Zoom USB accepts custom gobos, including patterns and messages easily printed on transparency film. Fits best in the CHS-40 VIP Gear Bag.
SHOP NOW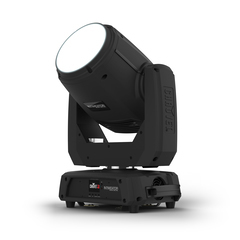 Intimidator Beam 355 IRC is a powerful and feature-packed moving head beam fitted with a 100W LED. Easily generate complex looks using the fixed gobo wheel that includes a unique animation effect to create additional dramatic looks. A rotating 3-facet prism splits the beam to cover larger areas. The motorized frost filter converts the beam to a wash. The onboard full-color display is RC-6 compatible and features totem mode and onboard memory for storing a scene. Intimidator Beam 355 IRC has powerCON®-compatible power input/output connections for power linking.
SHOP NOW